The installation of cable tray provides a way to manage the volume and cleanliness of your network. The trays are bendable and expandable to almost any requirement. Cable tray installations are a great alternative to running cable throughout a facility's walls or dropped ceilings. Whatever your preference, CORE Cabling can install a clean-looking, manageable cable tray solution that works for you.
---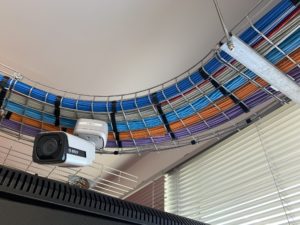 WHAT ARE CABLE TRAYS?
Because of the flexibility of cable tray, it can be bent to fit around bulkheads and ductwork, allowing for a clean installation and easy access to cables.
Basket tray is very popular because of the many options and configurations available.
In many cases, cable trays can even lend a sleek, clean look to an office, while also providing direct access to cables and network connection equipment. Cable tray comes in several varieties and colours. Some like the clean brushed metal look, while others want the tray to blend into the office's unique colours and décor.
HOW CABLE TRAY INSTALLATIONS WORK
Cable trays are installed by securing the tray configuration to anchor points throughout a ceiling or along a wall.
Cable trays are extremely useful as a solution for situations where ceilings are open, or where walls and ceiling spaces are inaccessible due to aesthetic purposes. Sometimes, drilling and running conduit for cabling is not an option. In cases where there's just no way to get access behind the walls or ceiling, cable tray installations work wonderfully.

CABLE TRAY INSTALLATIONS: HOW MUCH DOES IT COST?
Cable tray installations vary in cost depending on the amount of cable that needs to be run (weight of cables running through the trays) and the distance between destinations.
CORE Cabling has installed thousands of feet of various data and network cabling using cable tray solutions.
If you're looking for a cable tray installation for your office or facility, we invite you to drop us a line for a quote. We can tell you what will be the best approach for your cable tray installation project.